WELCOME TO RICCARTON MEDICAL, WHERE YOUR HEALTH IS OUR FOCUS.
MArch 2022 update
COVID Vaccine Booster Doses available   
The  booster doses are now available for anyone 18 years of age and over and it has been 3 months since your last dose.  You can book on line at:  https://bookmyvaccine.covid19.health.nz/
COVID 19 -Traffic Lights- Canterbury is currently at "RED" phase 3
Our aim is to keep everyone safe and to do this we need to monitor who is coming in and also restrict the numbers in the waiting room.
Please respect all requests from staff, who are working to make the medical practice a safer environment for all of us.
We continue to encourage phone consultations wherever possible.  These will be charged at the same fee as a standard consult.
Please use your COVID app to scan in on your arrival, or sign in. Hand sanitiser is provided and we ask that everyone use it.
While we remain open, we will be operating slightly differently during this time. You may be asked to wait in your car for the doctor/nurse to invite you in.
We have a duty of care to our patients and we will continue to provided equitable care to all our patients.
Unvaccinated or Unmasked
You are able to have a consultation but we ask that you read the information below:
For your own safety please notify us so we can protect you.
We are offering telephone consultations.
If you want an appointment, please note that you cannot enter the waiting room when you arrive. You are still able to have a consultation -but we will ask you to wait in your vehicle. Please phone reception on 03 3488711 from your vehicle when you arrive. The doctor/nurse will then invite you for your consult.  If you do not have a car to wait in, please let the receptionist know
Please let us know if you have a cough, cold, sore throat or other flu like symptoms. We will take a message and have the nurse phone you back.
Children under 12 years  
Parents, please note we will ask all children under 12 will to wait in the car. This limits their exposure to other people in the waiting room.  Please phone when you arrive in the car park.
The doctor will invite you in for your consultation.
Positive COVID-19 tests
As more people test for COVID -19 and record their results on My Covid Record then a more accurate picture of the spread is available. If you test positive, there are requirements for you to self isolate, along with other household contacts. More information can be found on this form or at https://covid19.govt.nz/ . We will contact you by phone to establish your specific clinical needs. If you do miss a call please contact us between 8.am and 5.pm on 03 3488711.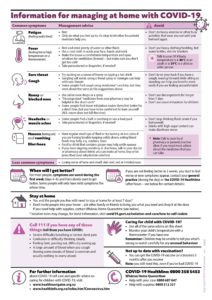 Vaccinated and masked
We are offering both phone and in-person consultations.
If you have any cough, cold or flu-like symptoms please do not come into the waiting room but call us for advice on 03 348 8711. We will take a message for the nurse to phone you back.
We require everyone aged over 12 years to wear a mask when entering the practice. If you have a mask exemption, please discuss this when making your appointment.
On arrival, please scan the QR code and use the hand sanitiser.
We are trying to reduce the number of people sitting in the waiting area, so we may ask you to wait in your car while waiting for your appointment. Please phone us when you arrive in the car park.
If you do not have a car to wait in, please let the receptionist know.
Cough, Cold Sore throat, or any other Flu like symptoms.
DO NOT COME INTO THE PRACTICE. We will phone triage and make the necessary arrangements at that time. This may be to have a COVID 19 swab (RAT Test of PCR) or to be have a consultation with the doctor.
This is to keep you, our staff and all our patients safe.
Here are some tips to avoid spreading a virus: – Wash your hands often with soap and water or use  alcohol-based sanitizer – Avoid touching your nose, eyes and mouth unnecessarily (they are gateways for colds and viruses to enter the body)
Support people
While we fully understand that patients like to have a support person with them for some consults, please be aware that we may ask the support person to wait in their vehicle until the doctor calls the patient in for the consultation.  This is to reduce the number of people in the waiting room. Please phone when you arrive in the carpark so we can check on availability of space and get your contact details.
Prescriptions
A gentle reminder to order your repeat prescriptions prior to running out of medication, if at all possible.  Scripts will continue to be sent directly to your pharmacy; they cannot be collected at the practice.
Patient test results
We will only contact you if your results are abnormal, however if you would like to know your results you can ring the practice and ask and also you can register for our patient portal at the practice and we will give you access so you can see your own results from home on your computer.  Please talk to reception and they will get you enrolled for this.
New patients
Our books are closed currently.  Please check the website in future to see if we have reopened our books.
Out of Hours Care
If you need medical care when we are closed, please go to Pegasus 24 Hour Surgery, 401 Madras Street, Christchurch Tel: 03 3657777 (this is accessed by driving into Dollans Lane off Madras Street). If you phone the medical practice out of hours your call will go to a nurse who will triage your call.
Thank you and have a safe and happy festive season.